During our Summer Holiday from now until June 23, 2023, we offer a 20% discount & free shipping
on purchases over $200. Orders will be processed as usual but won't be shipped until June 23rd.
The discount will be automatically applied in the shopping cart.
Share This Page!
Bashofu, Okinawa Banana Fiber Cloth
Bashofu fabric is made from the fibers stripped from the stalks of the Japanese banana tree (basho). Bashofu has been used to fashion kimonos, garments and household items in Okinawa since 13th century. That was 300 years before the island came under complete Japanese control.

Bashofu was such an important fabric during the Ryuku Dynasty (pre-Japanese era) that the government appointed a controlling authority whose exclusive task was to obtain the highest quality bashofu for the island's royal family and aristocrats. This premier fabric was characterized by its smoothness and lightness which comfortably allowed the free flow of air. The firm yet thin cloth, also called "wings of a dragonfly," was less likely to stick to the skin even in a hot and humid climate like that of Okinawa.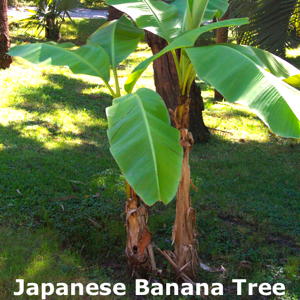 Lesser grades of bashofu fabric were also woven in the homes of farmers for wear by the family and also sold or traded to others which became an income producing home based cottage industry. This homemade bashofu was somewhat rough to the touch and not as delicate as that made for the upper classes. However, the fabric still had the cool properties favored by all Okinawans.

Initially, bashofu was woven into plain color or stripe patterns. Then in 1895, kasuri (splashed pattern) was introduced to Okinawa weavers and rapidly became an additional popular design.

Banana trees are native to the island. Although the plant belongs to the banana tree family, they do not produce fruit. Okinawans selected only the best trees to cultivate, the ones that possessed the finest quality fibers to weave into cloth. It takes 60 trees, three months to process the harvested fibers, spin into threads and then untimately weave into one bolt (3.85 sq m, or 4.5 sq yds) of Bashofu fabric.

Today, Okinawan artisans continue to make bashofu in the manner established hundreds of years ago. Is is in high demand for the artistry and beauty of the fabric even considering how costly it is. In Kijoka, Okinawa, visitors can watch craftsmen weaving bashofu, preparing the banana fibers, dyeing and spinning the fibers. Intricate designs are woven into the cloth using handlooms and then crafted into kimonos, bags, and other items. This workshop is a fascinating place to watch Okinawa's luxury textile artisans at work and pick up an artisanal souvenir at the same time.

Making Bashofu, Step By Step Production Process
Video Has English Subtitles